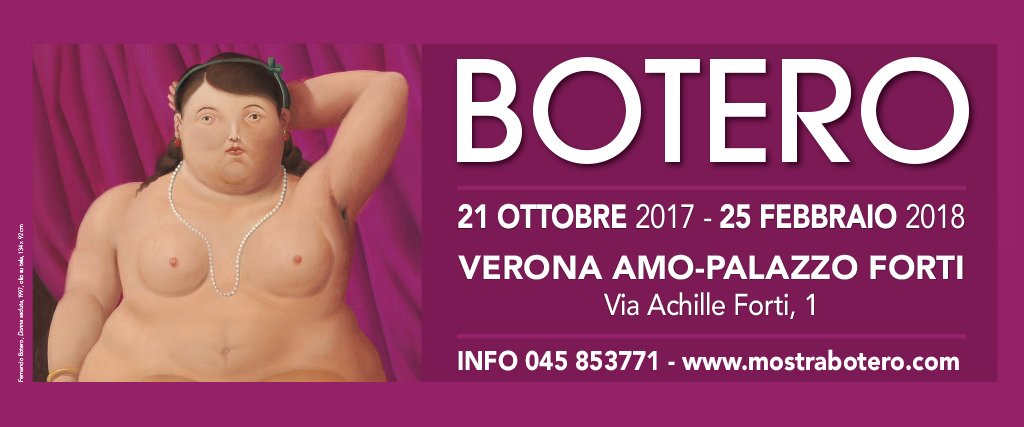 dal 21st October 2017
AMO PALAZZO FORTI - via Forti 1, Verona - Italy

From the 21 October to 25 February 2018, the Botero exhibition is held at the AMO-Palazzo Forti di Verona.
Over 50 large-scale works retracing Fernando Botero's career. His oversized bodies, the fantastic fairytale atmospheres of Latin America, and exuberant shapes and colours unfold through an exhibition that touches on all the themes dear to the artist – a cosmopolitan attached to the culture of his homeland, whose painting cannot be pigeon-holed under any one genre, despite its figurative nature and classical echoes.
The exhibition is structured in ten sections, from Beginnings – illustrating the influence of pre-Columbian and Mexican art – to Interpretations after Old Masters, featuring his unique and ironic revisitations of classical Western paintings. Then we have his Still-lifes, which are not mere compositions of fruits and objects but a rich and varied world to itself. The colourful world of the Circus (with Pierrot and Harlequin, a horsewoman, clowns, an elephant and some horses) leads us to Latin American Life, panels portraying the artist's people and exuding a sense of homesickness. In the section devoted to Politics, Botero's gaze turns to power, yet not without passing value judgements on the personalities portrayed. What the artist is most captivated by is the polychrome elegance of the gaudy garments of men of power and the Baroque pomp of the settings. Botero could not avoid engaging with the intriguing and fascinating theme of Bullfight, which is deeply entrenched in his culture, and with the theme of Religion, an example of a supernatural practice that permeates everyday life and translates into surprise. In Saints, Botero's work instead focuses on the careful reconstruction of each figure's life story. The exhibition comes to a close with the section on Nudes, whose volumes display a remarkable gracefulness, despite the Rubens-like rotundity of the bodies.
The Botero exhibition, with the patronage of the Comune di Verona, is organized and co-produced by the Gruppo Arthemisia and by MondoMostreSkira, with support from the Gruppo AGSM and rapidloansfast.com - sponsors of the initiative - and curated by Rudy Chiappini in close collaboration with the artist.

OPENING TIMES
Monday 2.30 pm - 7.30 pm
Tuesday to Sunday 9.30 am - 7.30 pm
(last entry one hour before)
ADMISSION
Full price € 14,00 (audioguide included)

Concession € 12,00 (audioguide included)

Group concession € 11,00 (booking required min 15 max 25 people, mandatory microphone equipment)
Special concession € 6,50 (audioguide included)
Schools € 5,00 (booking required min 15 max 25 people, mandatory microphone equipment) only for Secondary Schools)
Infant schools € 3,00 (booking required min 15 max 25 people)
BOOKING FEE
Individuals and adult groups € 1,50 each person
Schools € 1,00 each student
INFORMATION AND BOOKING
T +39 045 853771
www.mostrabotero.com
GUIDED TOURS
(admission not included, booking required min 15 max 25 people, mandatory microphone equipment)

Guided tours for schools € 80,00
(in foreign language € 95,00)
Guided tours for adult groups € 100,00
(in foreign language € 115,00)
MANDATORY MICROPHONE EQUIPMENT
Adult groups € 30,00
Schools € 15,00